Vikings!
Been a while since I did a post regarding my Vikings, they are still a work on the go but I've done enough now to provide you with another update of my Viking Great Army Build.
To date I've built (glued shields etc), tidied, cleared flash etc most of the Crusader Miniatures metal figures and based them (20x20mm), these are:
Bondi Command (DAV004 – Crusader Miniatures)
Bondi with Swords and Axes (DAV001 – Crusader Miniatures)
Bondi with Bows (DAV02) – based on 25x25mm.
Hirdmen Commands (DAV8)
Berserkers (DAV009)
Next on the list would be the final Crusader Miniatures blister Bondi with Spears (DAV003) and there were no spears!  The shields, the Vikings but no spears.  I tend not to check blisters these days because normally you'll have everything in them, but I'm missing the spears so time to email Crusader Miniatures.
Right that's the email gone.
I'm not going to base these, nor clean them up just in case they want the blister returned.
So moving on to my last metal blister, the Arizan Design's Viking Jarls (VIK12).  These are the sub-commanders for my army, so these chaps will be based on 30mm round bases.
One thing I notice is that the Artizan miniatures are a good fit for scale compared to the Crusader but have a lot more flash to clean.  The Crusader miniatures required minimal work on that which is a nice change.
I notice one of the Jarls is missing a spear as well, is this a trend?  A quick check to the Artizan Design and I see the Viking Jarls do not come with spears.  So hold on a bit, do the Bondi with Spears actually come with spears?  Let me go check them.  What's that?  You need to supply your own wire spears – why?  That's a cheap trick, seems they want £5.00 for some wire spears that you can down to shape.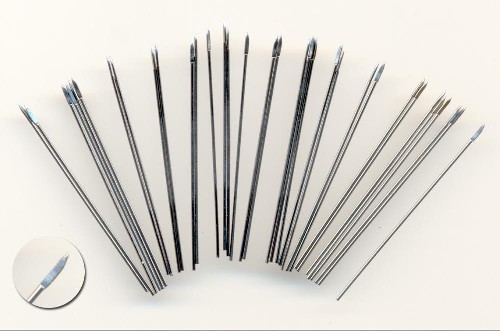 So another £5.00 + P&P, I'd rather wish that I had known this before.  I feel a bit cheated I have to be honest and I'm off to email Great Escape Games as they really should mention this, or supply some spears.  I also feel a bit of an idiot emailing without doing any detailed research, then again that's me used to buying figures that include everything your require.
Time now to post onto the club forum to see what others do.  I could buy this spear pack but there will be a lot of waste as you need to cut these to fit.
Ok another email gone to Crusader apologising for being too quick to complain.
Next I've been told to buy the spears from North Star, so I have done.  Again it's £5.00 + 10% P&P but I think the website isn't very good and the payment portal is total rubbish.  What I'm saying here is that I've ordered the spears and entered my card details and not a single email has come back yet (it took over 24 hours to get a basic email from them).  This gives me an idea but back to my Vikings.
A few hours later and I have a number of the Gripping Beast plastic Hirdmen all built up, here's a few pictures.
Made by Renedra Ltd of Wisbech, England (not far from my home town) and made with the same quality that you see with others they produce such as the Perry Miniatures British Line Infantry, and very similar with them are a number of easy to fit heads/arms that make building the models up so easy.  As these are the first I've done learning what left arms go with what right arms means a few mistakes it's easy to sort with plastic figures as the cement takes time to bond, glad these aren't metal otherwise the super glue would mean I have some weird looking Vikings!
Casting quality is excellent, very few seam lines around the models I've made so far and as previously discussed the arms/weapons/shields are easy to fit, very easy.
Each sprue contains 10 Viking bodies (5 different designs repeated) along with 14 separate heads (4 are duplicated) which gives you plenty of variation but also allowing you to keep the Vikings looking like they're part of the same group.  There are plenty of shields (all plain) and weapons which allow you to pose your figures in a number of different ways, however I did find that after the first sprue I had one figure with a spear in his left hand with no matching right arm available.
A small conversion job for the left handed spear-man, I used a small right arm and then cut the hand thumb off and then glued the shield onto his small hand, and then glued the right onto the model, so here he is:
One complaint is that the heads are fixed to the sprue via the top of the helmet so cutting it out, then shaping the plastic is time consuming and can lead to a few flat helmets.  I'm sure once the Vikings are all undercoated you won't be able to tell which were butchered and which weren't.  If I had designed the sprue layout, i'd have added the join under the head, it's easier to cover mistakes there.  Anyway this is a minor complaint really – I should take more time on these but alas I don't have that.
Next models to create are the commands models.  There are two small sprues with two models which allows you to create a musician, standard or command model.  I plan on making one command, two standards and one musician.
That's the command and one musician completed, time to get back to the rank and file troops.
The command/musicians are a bit dull if you ask me.  The musician looks like he's about to fall forward and the horn arm doesn't allow you to put it into his mouth, what would be ace I think.  The heads are a pain though, they'll joined onto the sprue underneath, ie where the beards are.  It's quite hard to cut them off in one piece and make the beard look good, I lost one head due to slipping and cutting half the beard off!
A couple of pics of the Vikings built so far:
However that's enough for this blog post.  I'll continue building my Vikings over the next week and let you know how I get on.
Cheers
Colin